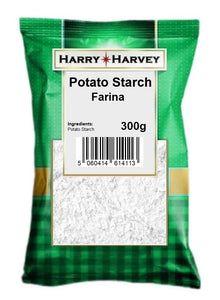 Harry Harvey premium-quality Potato Starch, the kitchen essential you never knew you needed! With 300g of pure, gluten-free starch in every bag, the possibilities are endless.

Whether you're baking bread, making sauces, or thickening soups, our Potato Starch is the perfect ingredient to add that extra touch of quality to your recipes. Its neutral flavor and smooth texture make it ideal for a wide variety of uses, and its versatile nature means it can be used in sweet and savory dishes alike.

At our store, we only offer the highest quality ingredients, and our Potato Starch is no exception. It's sourced from the finest potatoes, and is free from any artificial additives or preservatives, so you can be sure you're using only the best.

So why wait? Add our Potato Starch to your cart today and take the first step towards elevating your cooking game. Whether you're a professional chef or an amateur in the kitchen, our Potato Starch is the perfect ingredient to take your recipes to the next level.