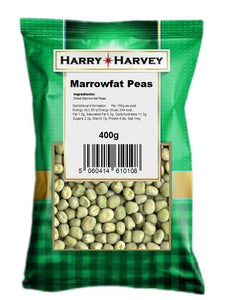 Harry Harvey Dried Marrowfat Peas.  These 400g packets are packed with premium quality peas that are perfect for making chip shop style mushy peas at home.

Our peas are picked and dried to perfection, ensuring that they retain their rich flavour and nutrients. They're perfect for using in a variety of dishes from traditional British mushy peas to tasty homemade soups and stews. 

What sets Harry Harvey Dried Marrowfat Peas apart from other brands is our commitment to quality.  We take pride in sourcing only the best peas from the finest farms, then carefully drying and packaging them to preserve their goodness.  Plus, our peas are naturally low in fat and high in protein, making them an excellent dietary choice.

These 400g packets are just the right size for adding to your weekly grocery list. Whether you're a seasoned cook or a novice in the kitchen, Harry Harvey Dried Marrowfat Peas are a must-have ingredient in your kitchen for making easy meals.

Order now and experience the depth of flavour and versatility that our peas bring to your cooking.  Trust us, your taste buds will thank you.
To make mushy peas using Harry Harvey Marrowfat Peas, you'll need the following ingredients:

 1 cup dried marrowfat peas
 Water for soaking and boiling
 1 tablespoon butter
 1 teaspoon salt (adjust to taste)
 ½ teaspoon black pepper (optional)
 Mint leaves (optional, for garnish)
Here's a step-by-step guide on how to make mushy peas with marrowfat peas:

1. Soak the peas: Place the dried marrowfat peas in a bowl and cover them with boiling water.  Let them soak overnight or for at least 8 hours. This will help soften the peas and reduce the cooking time.

2. Cook the peas: Drain the soaked peas and transfer them to a large pot.  Add enough water to cover the peas completely.  Bring the water to a boil over high heat, then reduce the heat to low and let the peas simmer for about 45 minutes to 1 hour. Stir occasionally and skim off any foam that forms on the surface.

3. Check for tenderness: After simmering, check the tenderness of the peas. They should be soft and easily mashed with a fork. If they're still firm, continue cooking for another 15 minutes or until desired tenderness is reached.

4. Drain and mash: Once the peas are cooked, drain them in a colander to remove excess water. Transfer the peas to a bowl and add the butter, salt, and black pepper (if desired). Use a potato masher or the back of a fork to mash the peas until you reach the desired consistency. Some people prefer a smoother texture, while others like a chunkier consistency. Adjust the seasoning to your taste.

5. Serve: Transfer the mushy peas to a serving dish. If desired, garnish with a few mint leaves for added freshness. Serve hot as a side dish with fish and chips, roasted meats, or other traditional British dishes.

Enjoy your homemade mushy peas with Harry Harvey Marrowfat Peas!