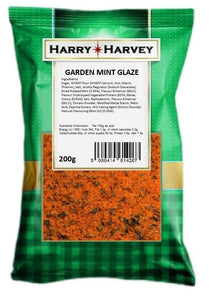 Garden Mint Meat Glaze 200g
A delicate taste of fresh mint and an attractive visual herb appearance makes this glaze refreshing, sweet and has a hint of tomato to add to the already mouth-watering flavour.
1. Add 1kg meat or poultry in a large bag or bowl.
2. Add 100g glaze and coat evenly.
3. Leave for 15 minutes to marinade
4. Cook as desired.

Ingredients
Sugar, WHEAT Flour (WHEAT
Calcium, Iron, Niacin, Thiamin),
Salt, Acidity Regulator (Sodium
Diacetate), Dried Rubbed Mint
(3.65%), Flavour Enhancer
(E621), Flavour (Hydrolyzed
Vegetable Protein (SOYA,
Maize, Colour (E150d), Salt,
Maltodextrin, Flavour Enhancer
(E621), Tomato Powder,
Modified Maize Starch, Malic
Acid, Paprika Extract, Anti
Caking Agent (Silicon Dioxide),
Natural Flavouring (Mint Oil) (0.5%)
Nutritional Information:                     Per 100g as sold
Energy kJ 1459 / kcal 344, Fat 1.2g, of which saturates 0.2g,
Carbohydrate 80g, of which sugars 66.3g, Protein 3.6g, Salt 7.4g. 11.8g