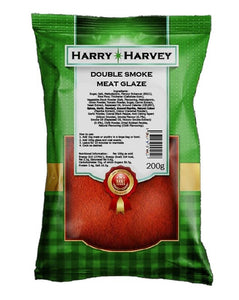 Double Smoke BBQ Meat Glaze 200g
A captivating fusion of carefully chosen herbs, exquisite spices, and the infusion of hardwood smoke harmoniously unite, giving rise to a luscious and dynamic glaze that boasts an extraordinary smoky character.
The 200g Harry Harvey Double Smoke Meat Glaze is a premium culinary delight for meat lovers. This unique glaze is meticulously crafted to enhance the flavor of your favorite meats, adding a delicious smoky twist to every bite. Made with high-quality ingredients and expertly blended spices, this glaze creates a mouthwatering caramelized crust that seals in the juiciness and amplifies the taste of grilled, roasted, or smoked meats. Whether you're barbecuing, hosting a dinner party, or simply indulging in a homemade meal, the Harry Harvey Double Smoke Meat Glaze is the perfect companion to elevate your culinary creations to a whole new level. Enjoy the rich, double smoky goodness with every delicious serving.
How to use:
1. Add 1kg meat or poultry in a large bag or bowl.
2. Add 100g glaze and coat evenly.
3. Leave for 15 minutes to marinade
4. Cook as desired.

Ingredients:
Sugar, Salt, Maltodextrin, Flavour Enhancer (E621), Rice Flour, Thickener (Cellulose Gum), Vegetable Stock Powder (Salt, Flavouring, Maltodextrin, Onion Powder, Tomato Powder, Sugar, Carrot Extract, Yeast Extract, Rapeseed Oil, Ground Celeriac (CELERY), Spices, Garlic. 
Powder), Ground Paprika, Natural Colour (Paprika Extract), Colour (Caramel Powder), Garlic Powder, Coarse Black Pepper, Anti Caking Agent (Silicon Dioxide), Smoke Flavour (0.7%), Smoke Oil (Rapeseed Oil, Hickory Smoke Extract) (0.5%), Chilli Powder, Dried Rubbed Parsley, Natural Flavouring (Chilli Flavouring).
For Allergens see ingredients in BOLD.
Nutritional Information:                     Per 100g as sold
Energy (kJ) 1374kJ j, Energy (kcal) 324 kcal, Fat 2.3g, Saturated fat 0.6g, Carbohydrates 72g, of which Sugars 59.7g, Protein 3.4g, Salt 16.3g.